Green Bee services is a trusted cleaning provider having over 7 years of experience in the industry. Using the latest environmentally responsible 'green' cleaning systems and internationally recognized training programs, we specialize in disinfecting and sanitizing environments for both residential and commercial spaces. All equipment is provided to ensure a healthy and clean space along with solutions proven to kill 99.9% of germs, bacteria, and viruses.
green cleaning
residential cleaning
commercial cleaning
office cleaning
post construction clean ups
carpet/ upholstery cleaning
disinfecting/ sanitizing cleans
We are a Women Owned business
We are a Minority Owned business
We offer a 200% satisfaction guarantee
We operate within CDC guidelines
561720 561790 325612
236118 236210 236210
236115 236116 236117
236210 236220 531190
531120 531311 531312
531390 551111 551112
561740 562119 812199
551114 561210 561320
814110 925110 921190
531110 238390 238391
238392 238910 238911
238912 238990 238991
238992
Certifications:
Women Owned Small Business
DUNS # 116746917
Government Business Contact: Nicki Singh
Ph: 813-999-0340
Email: greenbeemaidsolutions@gmail.com
Address: 518 Villa Treviso Court
Apollo Beach, FL, 33572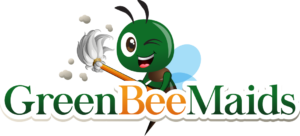 Make sure your workplace is the kind of clean that only Green Bee Maids can provide! We go deeper to ensure that your workplace sparkles for both customers and employees, and that everyone enjoys a healthier and cleaner environment. Our commercial cleaning services meet the highest standards and are guaranteed to leave you satisfied.
Interested in a free quote? Fill out this form and we will be in touch.
[forminator_form id="390"]